Alan Ott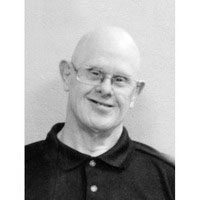 Alan Ott
Alan Ott, 62 of Decorah (formerly Fort Atkinson), died April 6, 2022 at Northgate Care Center in Waukon. 
Mass of Christian Burial will take place at 11 a.m. Tuesday, April 12, at St. John Nepomucene Catholic Church in Fort Atkinson with burial in St. Wenceslaus cemetery in Spillville and visitation from 9 a.m. to the time of Mass Tuesday.
Alan Leo Ott was born Jan. 14, 1960. He was born the son of Leo and Catherine (Hageman) Ott in Decorah. He attended school at Turkey Valley in Jackson Junction. Alan went to work at The Spectrum Network in Decorah. He enjoyed the Iowa Hawkeyes, collecting pens and remotes and watching the Chicago Cubs with his dad. Alan loved ice cream and Diet Pepsi. For the last couple of years, Alan resided in Waukon.
Alan is survived by his brothers: Roger Ott, of Fort Atkinson; Linus (Bernice) Ott, of New Albin, and Dennis Ott, of Fort Atkinson; his nieces and nephews: Keith (Kelli) Ott, Kevin (Julie) Ott, Christie (Chad) Ihde, Jaci McCartney and Karisa Ott and his great-nieces and great-nephews: Madelyn Ott and Emersyn Ott and Olivia Ott; Ashlyn Ihde and Cale Ihde and Nicole Ryan.
Alan was preceded in death by his parents: Leo and Catherine (Hageman) Ott; one sister, Doris Ott and one sister-in-law: Judy Ott.
Category:
The Calmar Courier
The Calmar Courier
110 N. Maryville St.
PO Box 507
Calmar, Iowa 52132
Phone: 563-562-3488
news@calmarcourier.com
Mid-America Publishing
This newspaper is part of the Mid-America Publishing Family. Please visit www.midampublishing.com for more information.