Donald Huinker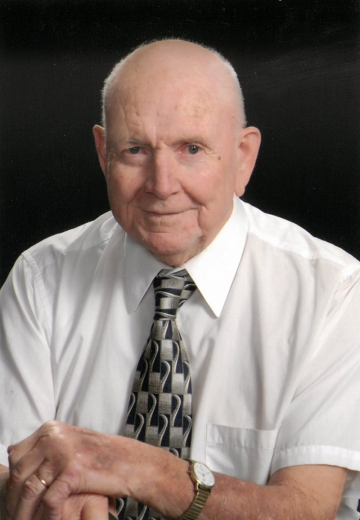 Donald Leo Huinker, 90, passed away Feb. 14, 2022 at Wellington Nursing Home in Decorah and was escorted to his heavenly home by God and his beloved wife, Catherine. Donald was born April 23, 1931 on the home farm near Festina to Frank and Caroline (Einck) Huinker. He graduated from eighth grade from St. Mary's School in Festina and later received an honorary high school diploma.
Donald served in the United States Army during the Korean Conflict from 1951 to 1953 and was honorably discharged in 1953. He was united in marriage with Catherine Zweibahmer Nov. 17, 1953 at St. Aloysius Catholic Church in Calmar. They raised eight children on their farm south of Ossian. Donald had a passion for farming and retired in 2002. He moved from the family farm in 2017 and spent his last four years in Decorah at Wellington Assisted Living. Donald was an active member of American Legion Post 503 for sixty-nine years. He enjoyed playing cards, a rousing game of Chinese Checkers, fishing and dancing to Polka music and waltzes. He loved spending time with his kids, grandchildren and great-grandchildren; they brought great joy to his life and kept him young at heart.
Surviving Donald are his children: Nancy (Kevin) Timp, of Calmar; Janice Huff (Larry Peterson), of Cresco; Donna (Frank) Ryant, of Cresco; Bonita (Don) Oliver, of Ossian; Raymond (Mary) Huinker of Decorah, Iowa, Roger (Cathy) Huinker of Ossian, Iowa, Teresa Nelson, of Decorah, and Randy (Tina) Huinker, of Ossian; his grandchildren: Joy Sim, Jessica Drilling, Chad Hackman, Shannon Hurd, Sara Dishinger, Anne Piper, Donald Oliver, Amy Dettman, Jenny Huinker, Samantha Gansen, Jonathan Huinker, Tiffany Wagner, Jacob Huinker, Justin Nelson, Dawson Huinker, Quinn Huinker and Linlee Huinker; 25 great-grandchildren; one great-great grandchild to be born in April and his sisters-in-law: Arlene Huinker and Bernice Huinker.
Donald was preceded in death by his wife, Catherine Huinker; his parents: Frank and Caroline Huinker; his sisters: Bernice and Lawrence Buchheit; Ethel and Leonard Luzum; Geneva and Clarence Kuennen and Marjorie and Paul Huber; his brothers: Neil Huinker, Robert Huinker, Gerry Huinker and Virgil Huinker and a son-in-law, Dale Huff.
Visitation was set for 4 to 8 p.m. with a 4 p.m. Rosary Feb. 18 at St. Francis de Sales Catholic Church in Ossian and one hour before Mass time at the church Feb. 19 with Mass of Christian Burial at 10:30 a.m. Feb. 19 at St. Francis de Sales Catholic Church in Ossian with burial with Military Rites at the church and Schmitz-Grau Funeral Home and Cremation Service with arrangements.
Category:
The Calmar Courier
The Calmar Courier
110 N. Maryville St.
PO Box 507
Calmar, Iowa 52132
Phone: 563-562-3488
news@calmarcourier.com
Mid-America Publishing
This newspaper is part of the Mid-America Publishing Family. Please visit www.midampublishing.com for more information.