Ronald Elsbernd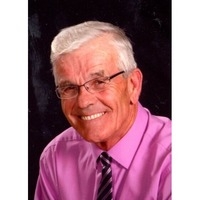 Ronald Elsbernd
Ronald Elsbernd, 70, of Calmar, passed away Sunday, April 10, 2022 at Gundersen Health Systems in La Crosse, Wisconsin from complications of a stroke.
Ronald Lee Elsbernd was born July 9, 1951 in Decorah to Cletus and Georgina (Korbel) Elsbernd. He was baptized and confirmed at St. Aloysius Church, where he remained a member until his death. He attended St. Aloysius Catholic School, and graduated from South Winneshiek High School in 1969. He joined the Army Reserves after high school and received a Quilt of Valor on Veteran's Day 2021 to honor his six years of service.
Ron married Phyllis Wurzer Aug. 14, 1976 at Our Lady of Mt. Carmel Catholic Church in Lawler. With this union they were blessed with two children: Brad and Alicia. He was employed as a truck driver for Hall Roberts' Son in Postville for 38 years, retiring in December 2016. He enjoyed spending more time with his family during retirement, and his biggest joy came: his grandchildren: Peyton, Lane and Riley. They made him smile and laugh and replaced Phyllis as number one on the list.
He enjoyed his Thursday coffee and breakfast at the Hay Market. He also looked forward to weekly lunch with his brothers and sister. When he wasn't busy with family, he could be found in the garage, usually bent over working on the engine of a classic car or underneath it with greasy hands, scattered/lost tools and inappropriate words spoken. More often than not, he was doing his best to figure out where the oil or transmission fluid puddle on the floor was coming from. He would have been a great contestant for trivia night or "Name that Tune," and his area of expertise was 50s and 60s music. Ron and Phyllis were inseparable. For over 20 years, they were active members of the Bluff Country Cruisers Car Club. Many summer weekends were spent at various car shows and cruises. Phyllis knew she would have to go looking for him if he found someone to talk cars with, but Fords were forbidden territory.
He will truly be missed by his wife of 45 years, Phyllis Elsbernd; his son, Brad (Kelly); his daughter, Alicia, and grandchildren, Peyton, Lane and Riley.
He is survived by his brothers: Robert (Michele) Elsbernd, Bill Elsbernd and Rick Elsbernd; one sister, Diane (Jerry) Langreck; a sister-in-law, Nancy Elsbernd; his in-laws: Sandy Hallberg (Lee Cosselman), Dale (Linda) Wurzer, Randy Wurzer (Mary Egli), Tim Wurzer, Karen Wurzer, Lori (George) Kohlmeyer and Susan Wurzer. He is also survived by many nieces, nephews and cousins.
He was preceded in death by his parents; brothers Kenneth and Daniel; grandparents: Frank and Ida Elsbernd, Charles and Anna Humpal; adoptive grandparents: John and Mary Korbel; mother-in-law and father-in-law: Edgar and Betty Wurzer; brothers-in-law: Gary and Terry Wurzer and a sister-in-law: Brenda Wurzer.
Mass of Christian burial was set for Monday, April 18, at St. Aloysius Catholic Church in Calmar with burial in the parish cemetery and visitation Sunday from 3 to 8 p.m. April 17 and after 10 a.m. April 18 in the church.
Category:
The Calmar Courier
The Calmar Courier
110 N. Maryville St.
PO Box 507
Calmar, Iowa 52132
Phone: 563-562-3488
news@calmarcourier.com
Mid-America Publishing
This newspaper is part of the Mid-America Publishing Family. Please visit www.midampublishing.com for more information.